API Configuration Options
The first configuration page consists of 5 parts described below and you only have to configure this once so take your time to get things going. We will be happy to guide you, just send an e-mail to dev@contentor.se and we will help you through the settings.
Api Token

You receive your token from your company contact with Contentor. If you don't have a token and are interested in the extension, please contact dev@contentor.se and we'll set you up within a day.
You always get two kinds of Tokens; one for testing, this will always return the same text but with TEST in the beginning just a few seconds after received. This is used when testing.
You also get a production token, this will generate real orders that will be localized according to your agreement with Contentor.
API Automation Settings

Import status will change the product status to Enabled when the text returns localized from the API, if disabled the product status will not change.
Warning
Notice that the status setting is on Website level, so if you have multiple Sores/Store Views in the same Website, all will be enabled.
API Source Language

Source language for orders sent. This is a default setting and can be changed when sending. It has nothing to do with the actual language but is used to identify workers to handle your order and should be the same as the language of the texts you want to have localized.
API Target Store Views

Choose your target(s) for the localization, choose one or more store views as target. The extension will send one request per target with the locale setting for the store view as target language. When received, the text will also be saved on the store view level on the product.
API Included Fields
This is where you build the request and choose what information the writer has at hand when localizing your texts. Of course, you want to include all texts that shall be localized, but if you add context relevant to the product you make it easier for the translators/proofreaders to do a better job.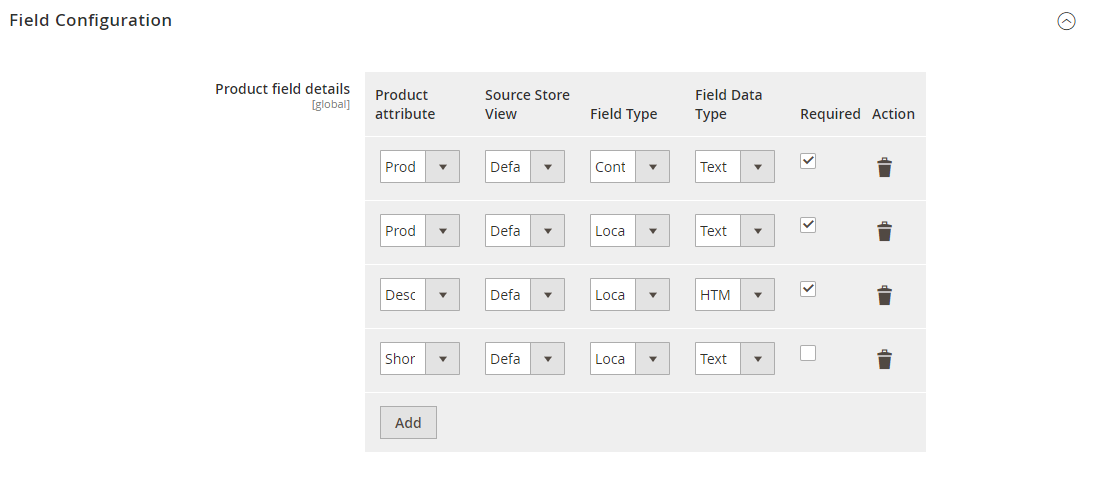 Info
If your product is public in some store, the best context you can send is a link to that page, so the writer will be able to see the whole context and perhaps a detailed image of the product. Also, the order you set up the fields in this setting, is the order the translator/proofreader will see them, so you can decide the best order.